Pict to SVG
by Chuck Houpt chuck@habilis.net
Home Page(英語-English): http://habilis.net/pict2svg/
家ページ(日本語-Japanese): http://habilis.net/pict2svg/index.j.html
Introduction
Pict to SVG is a Macintosh utility program for converting Picture files and clippings to the new Scalable Vector Graphics (SVG) format.
Download
Example
On the left is a screen shot of a Picture, and on the right is the SVG version generated by Pict to SVG.
Note that you must have Adobe's SVG Plugin in order to see the SVG file rendered.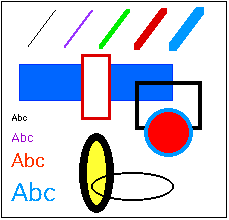 Picture Element Support
Current
Text
Lines
Rectangles
Ovals
Polygons
Future
Fonts
Rounded rectangles
Bitmaps